Cocoa Beach Stand Up Paddleboard (SUP) Lessons, Rentals and Tours
Enjoy a paddle at our exclusive Banana River Park, and take advantage of the picnic and play options as well!
Surfing SUP and Backwater Paddling too.
Only a 10 minute walk from Cruise Terminal #1, beginners will enjoy paddle boarding on tranquil, shallow waters with a guide or on your own as you practice balancing and paddling, covering some ground and interacting with the friendly manatee! We have boards for every size and ability, so don't be discouraged. We'll take great care of you.
We supply a custom paddleboard and paddle, and we'll meet you at one of our preferred launch sites, including the nearest bay side park to the cruise terminals, Banana River Park, where you'll have exclusive access. Bring your entire party for a great time, picnic, play, enjoy being outdoors and experience a likely encounter with manatees, dolphin and other marine life.
Prices:
$29 – Includes softtop paddleboard and paddle. You pick up and use up to 3 hours. $35 if we deliver locally.
$49 – For a 24hr rental of a softtop paddleboard and paddle if you pick up. $55 if we deliver locally.
*Performance SUPs cost just a bit more. Call for details.
Multi-day and weekly discounts apply.
Most performance SUPs are Bic Ace-Tec boards.
Daily rates are for up to 24hrs. Enjoy paddling on the bay or on the beach. SUP fishing experts, just ask us!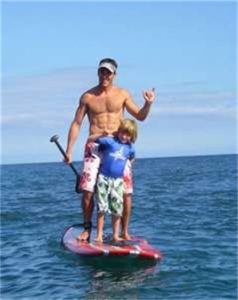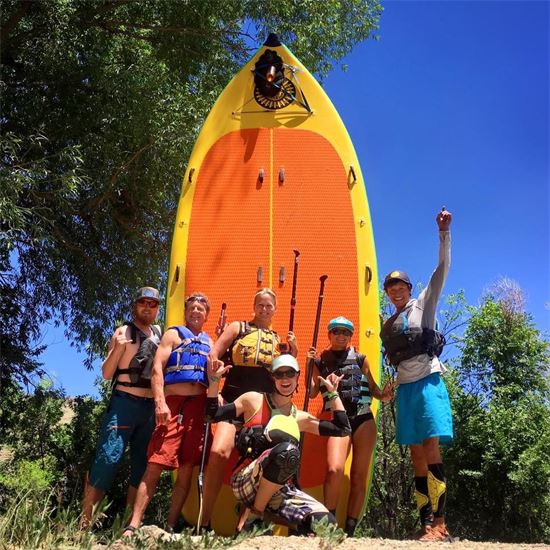 Giant Group Stand Up Paddleboard!
Our 15′ long, 6-person Fiesta SUP is the funnest thing on water. Surf it, paddle it, whatever! For the beach or bayside, this is the funnest thing going! Starting at $85, includes delivery and pickup.
Lessons are typically bayside on calm waters. A great way to shorten the learning curve and get comfortable on the water. A great value.
$75 = 1.5 hrs/student
Everything included:
Custom fitted SUP
Expert Instruction and guidance for the full 1.5hrs
Fully Guided tour, often seeing manatees, dolphins and more.
All Sup lessons include paddleboard basics, reading the water, board safety, water safety, paddling technique, managing wind and sup etiquette. We'll have you enjoying yourself in no time at all.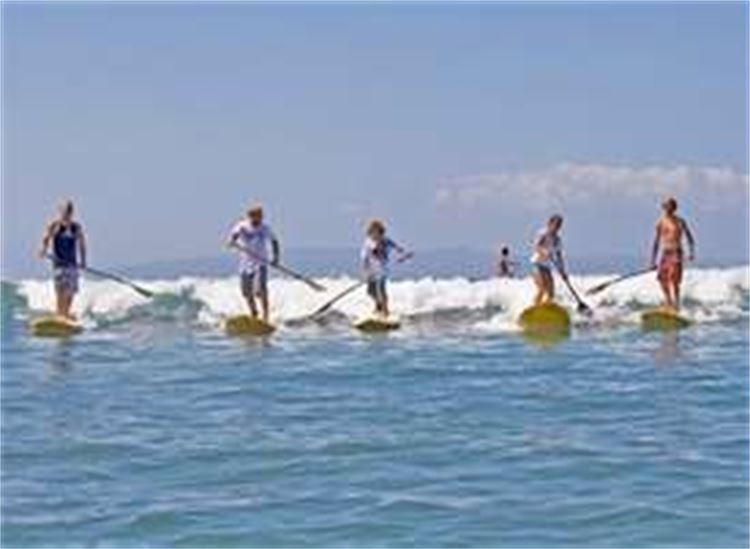 For the Experienced Paddleboarder
Most of our performance sups are Bic Ace-Tec boards from 9-4 to 11-6. We have settled into these boards because they offer superior performance combined with durability over dozens of other brands we have used over the years. We have shifted from glass/epoxy boards due to excessive damage and maintenance which helps both of us! Our Bic Ace Tec All-Arounds, and Cross Flat Water SUPs are the ideal boards for the waters we enjoy every day. The All-Arounds surf quite well with a tri-fin set up, and both the All-Around and the Cross are fantastic flat water boards offering stability across wide spectrum of body sizes and abilities. You are welcome to pick up the SUPs on your own or we'll be happy to deliver to the beach or to the bay for you. And for the paddleboarding fisherman, we have what you need, including rod and paddle holders, anchors, bait buckets and more.
A note on tipping the guide, instructor, or delivery tech:
Tips are appreciated and also provide for much of the income for our team, for being in a service industry. If you have questions about tipping, you may inquire with the team member at the time of service, or give us a call. Standard service industry tips of 15 – 20% for guides and instructors are normal, and 5 – 10% for deliveries.