Cocoa Beach and Orlando Foremost Kayak Rental and Tour Service!
Freaturing safe and exclusive park access.
Private, 2 to 4 hr Cocoa Beach kayak rentals start at $49*
Florida Bioluminescence Night Time Paddle Tours just $69pp
Call us now!  321-505-7455
7 days a week
For prompt info on guided & self guided Thousand Islands and manatee / dolphin tours and bioluminescent evening tours. Also, kayak fishing rentals and guides available.4
Manatee and Dolphin Tours Backwater Paddling,
Fishing and SO Much More!
Backwater kayaking in the Indian and Banana River Lagoon.
Surf kayaking is easy, affordable and has almost no learning curve!
 Fully guided 1/2 day and full day trips available too!
Bioluminescence at Night!
Summer and fall months provide an unparalleled bay side experience in the evening when the sun goes down, the bioluminescence comes out! Paddle around in water that literally glows in the dark, from either our Cocoa Beach, Cape Canaveral, or Merritt Island Kelly Park paddle sport launch venues. Custom itineraries available.
Exclusive waterfront park access at Banana River Park
Enjoy the absolute best waterfront access in all of the Cocoa Beach area for your own kayak and paddle board SUP enjoyment, the Banana River Park in Cape Canaveral. Featuring a covered picnic pavilion, restrooms, playground, soccer field and more, this park is certain to make your water sports picnic and family outing a most memorable event on your vacation!
We're consistently a "Best Value" with our
low-price guarantee for self-guided kayaking fun!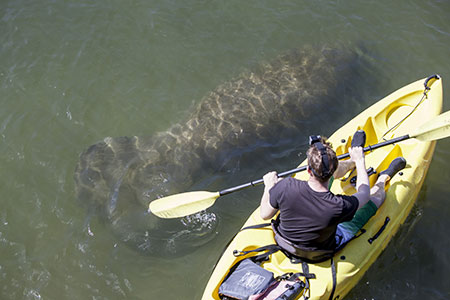 Entering March and April, 2018, our Cocoa Beach area manatees are in a strong and reliable springtime pattern and are making daily appearances in nearby waters where we kayak every day! It is a great time to get out and view them in their natural habitat whether by kayak, boat, or by SUP. If you like, call for the most current manatee and dolphin activity.
Our Cocoa Beach kayak opportunities abound with unmatched access to the magical waters of the Indian River Lagoon, the Thousand Islands Chain, the fabled No Motor Flats Fishing Zone, and even right off the beach. We also have true backwater kayak trips where alligator sightings are common and you will not see anyone else – not for the faint hearted! So call to schedule a 3-hour trip or full day of kayaking adventure.
We sell new and used kayaks and offer kayak rigging and repair.
We carry kayak seats, paddles, rod holders, scupper plugs, bungee strapping,
car carriers, storage solutions, repair kits, and more.
Cocoa Beach has excellent open water and backwater kayaking. Its safe, fun, and affordable.
For 1/2 day tours/rentals we try to launch twice daily, 9:30 and 1:30, but we're flexible. Our most popular launches are Banana River Park in Cape Canaveral, and our private Thousand Island's Marine Sanctuary launch. But there are many other sites including Kars (Cars) Park, Manatee Cove, Kiwanis Island, Ulumay Wildlife Refuge, Pine Island Nature Area, Merritt Island Refuge and more. Kayaking experience, weather conditions, desired viewing opportunities, your available transportation, and age are all factors we consider when scheduling kayak outings.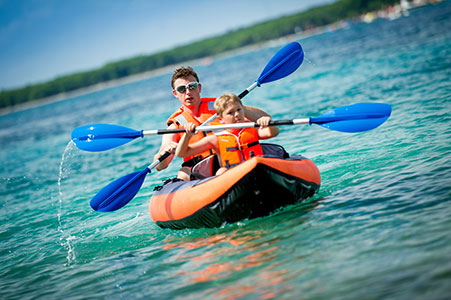 All euqipment for kayaking is provided.
We encourage you to bring:
sunscreen
hat
polarized sunglasses
towels(keep in car)
clothes that can get wet
water shoes/sandals
change of clothes in your car
drinks/refreshments
camera and cell phone (in ziploc bag)
We can supply coolers, water and ice. Please ask.
Anything that can NOT get wet!
Intimate experiences with nature and wildlife including manatees, porpoises, rays, schools of fish, mangrove shorelines, and all kinds of marine life.
Quiet seclusion – we don't send you out with 3 dozen strangers like other outfitters do.
Flexible schedules and accommodating staff. Our job is to make certain you get the trip you want.
Be prepared to get wet below the waist. You may have to step into water that is knee deep and a friend or family member may splash you with their paddle!
Save $$$ if you pick up rental kayaks yourself!
This discount is for kayakers that have the ability to
transport kayaks with their own vehicles.
We are pleased to offer the best value and the most diverse kayaking options around.
Guided or self-guided trips
Full day guided or self-guided trips
Kayak Fishing (bay side flats and ocean)
Ocean Kayaking
Wilderness Kayaking
Overnight Camping
Multi-day and weekly rentals
Guided Kayak Fishing Rates
$200* for 5 hours
$50 angler/non-angler
*plus gratuity
The Merritt Island Refuge at Kennedy Space Center is home to the world famous no-motor-zone where world-class redfish and trout fishing is just minutes away. Take advantage by booking a fishing kayak with delivery. We'll show you how.
We have many styles of kayaks to choose from and we will gladly help you. If you have limited kayak experience or none at all, please rest assured. It is our priority to ensure your safety. Kayaks are much more stable than canoes. We have never had a kayak tip…ever. And once you've tried kayaking, you'll likely never go back to a canoe again in your life!
We also fish off the beach during calm weather when baitfish schools are moving along the beach. During these outings, expect to catch sharks, mackerel, tarpon, jack crevalle, cobia, and more. This is exciting fishing and requires launching kayaks from the beach. It is tough work, but also extremely rewarding for the adventurous angler willing to put in the effort.
Cruise passengers please click here for affordable, custom kayak tours.