Kayak Eco Tours and Lessons in Cocoa Beach
Featuring safe and exclusive watersports activities with the area's foremost outfitter!
Explore area backwaters in the Indian and Banana River Lagoon with your exclusive Lagoon Loyal Outfitter plying the fabled Thousand Islands Marine Sanctuary and other exclusive sites with options for guided, and Do-it-Yourself eco paddling adventures.
For prompt info on these activities, you can call our shop during the day 9-5, or click the book now button to be forwarded to more detailed information.
Manatee and Dolphin Tours Backwater Paddling,
and SO Much More!
BIOLUMINESCENT KAYAK TOURS
Summer and fall months provide an unparalleled bay side experience in the evening when the sun goes down, the bioluminescence comes out! Paddle around in water that literally glows in the dark, from either our Cocoa Beach, Cape Canaveral, or Merritt Island Kelly Park paddle sport launch venues. Custom itineraries available.
Florida Bioluminescence Night Time Paddle Tours just $69pp
Call us now!  321-505-7455
7 days a week
Bioluminescent Night Tours
Exclusive Waterfront Park Access
We are the area's only Lagoon Loyal Outfitter holding every available commercial use permit.  This helps us ensure you have the best paddle adventure possible, we can get you in the wildlife action, wherever it may be!
Kelly Park, Merritt Island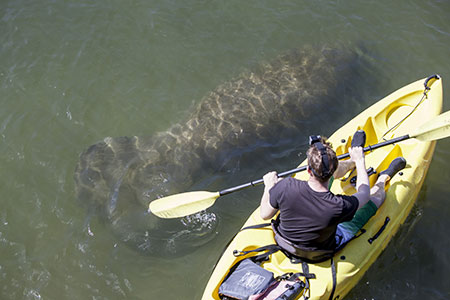 The Marine Wildlife Are Here!
Our waters are globally recognized as being among the most biologically diverse ecosystems found anywhere. Our sub-tropical climate, fresh water and sea water intertidal mixing, and abundant sunlight provide the ingredients for an explosion of biodiversity! Manatees call this area home all year long, and our watersports activities all feature very strong possibility for manatee sightings and interactions, no matter where we go. Bottlenose dolphin are also highly abundant and are part of our tours every day. 
Typical outings also include sightings of numerous marine wildlife including wading birds, diving birds, birds of prey, and under the surface we encounter rays, fish, crab, and can often touch critters briefly along the shorelines including harmless and kid-friendly marine snails and horseshoe crab.
We Sell New and Used Kayaks with Service and Repair
Our retail store carries in-stock kayaks, kayak parts, paddle and fishing supplies, and we provide kayak repair and rigging.
All equipment for kayaking is provided.
We encourage you to bring or purchase in our store:
sunscreen
hat
polarized sunglasses
towels(keep in car)
clothes that can get wet
water shoes/sandals
change of clothes in your car
drinks/refreshments
camera and cell phone (in ziploc bag)
We can supply coolers, water and ice. Please ask.
Anything that can NOT get wet!
What to expect on our kayak tours:
Intimate experiences with nature and wildlife including manatees, porpoises, rays, schools of fish, mangrove shorelines, and all kinds of marine life.
Quiet seclusion – Private tour options available, include you and your people, no strangers.
Flexible schedules and accommodating staff. Our job is to make certain you get the trip you want.
Be prepared to get wet below the waist. You may have to step into water that is knee deep and a friend or family member may splash you with their paddle!
Cruise Passengers using Port Canaveral and looking for shore excursions in Cocoa Beach, A1A Beach Rentals has affordable, custom kayak eco tours!
Due to varying arrival and departure times, please call to discuss a custom itinerary that fits your schedule. We are happy to accommodate groups of 4 or more to your schedule.