Full Day and Half Day Deep Sea Fishing Charters
We bring your dreams of an offshore adventure to life in luxury, safely aboard our 45' Hatteras Sportfishing Yacht, eliminating your fears. You will feel inspired, relaxed, and rejuvenated.
We'll take you where you want to go, whether it's a deep sea fishing adventure, or a day on the water with family and friends. You'll be cared for and well fed. We've got everything you need to safely make that dream on the water a reality.
Meet us where the dock ends, and the adventure begins.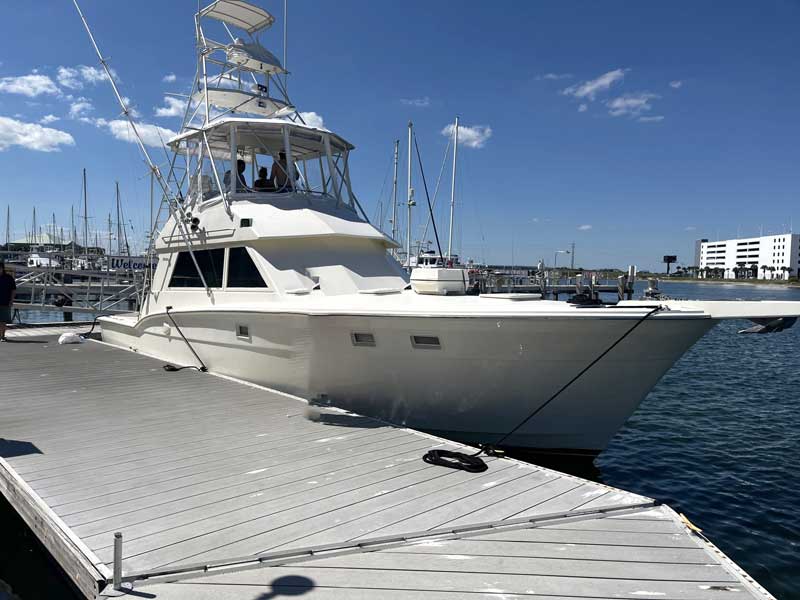 A Hatteras Yacht does not aspire to offer a luxury, that is simply where it begins. This beautiful 45′ Sportfish Convertible has a Tuna Tower and is a luxurious battleship for the professional angler. 
We have everything you need onboard for an exceptional fishing experience. You will not need a fishing license or any tackle, although if you want to bring your own, you are welcome to. 
 We will provide water, coffee and snacks, and you are welcome to bring whatever food and beverages you like. We can also provide you with a list of our favorite local vendors who will cater and deliver your order prior to leaving the dock. 
Once we have arrived back at the dock and everyone has disembarked, your catch will be brought to the dock to hang on the brag board for pictures. The crew will clean and fillet them for you. They can even prepare a special cut for you to take to one of our local restaurants, which will cook your fresh catch for you!